Osaki OS-4D Pro Maestro LE 2.0 Massage Chair Review
A Brief Overview of the Osaki Os-4D Pro Maestro LE 2.0
From the popular line-up of the Maestro Family of Chairs, their 2023 model is one of the best massage chairs for home and even commercial use — the Osaki OS-4D Pro Maestro LE 2.0. 
A number of notable features have been added to Maestro LE 2.0 with upgraded qualities such as the Chair Doctor AI Body Pain Scan and Intelligent Voice Control. It has much to offer, including a 4D massage system with heated rollers, rapid control keys with wireless charging, complete customizability with 7 different 4D settings, and 5 intensity and speed options. It also boasts a 17" seat width and a 20.5" shoulder width that matches the needs of users up to 6'3" tall and 260 pounds.
Indeed, it's a high-end massage chair that offers advanced technology for the best massage experience. This review will cover in-depth its main features. We'll also discuss the chair's benefits and drawbacks, respond to some often-asked concerns and present feedback from customers. Let's dive in!
Main Distinguishing Features
The Osaki OS-4D Pro Maestro LE 2.0 Massage Chair stands out from other massage chairs on the market thanks to a number of distinctive characteristics including:
4D Massage Mechanism

Maestro's four-dimensional massage rollers let you experience a whole new level of relaxation. Your body is going to reach total serenity as the rollers now offer the expansiveness of a 3D massage and the pace variation of a live massage therapist. Thanks to the newly developed 4D roller technology, the Osaki massage chair has eight various degrees of adjustment and five strength and intensity levels. It also features the ability to apply pressure to a greater depth methodically than the traditional massage rollers. 
52" S+L Track Technology

This full-body massage chair offers cutting-edge S+L Track technology. With the SL-Track technology, the massage roller will reach all muscles in your body. It properly traces the curve of your spine, massages around your glutes, and targets your hamstring muscles. With a thorough full-body massage method, it ensures optimal recuperation.
IR Heated Back Roller Massage

The highly sophisticated infrared heated roller will reach deep into your tissues. By relieving tense muscles and easing tension, the heated rollers assist in your full body relaxation.
Chair Doctor AI Body Pain Scan

The Chair Doctor, an Artificial Intelligence (AI) Body Pain Scan, on the Osaki 4D Maestro LE 2.0 will precisely trace and identify your individual sore spots. Its intelligent scan and sensors will also offer you a personalized massage plan with color coding. Ultimately, you can observe how the trigger points have improved with a sense of targeted relaxation.
Intelligent Voice Control

Similar to Alexa's functionality, you can effortlessly operate the massage chair without lifting a finger. This is thanks to Maestro's voice control capability that identifies 28 different phrases. Via voice recognition, the innovative massage chair will respond to your commands. 
Zero Gravity

With the Maestro's Zero Gravity Reclining, you may lie completely weightless. Your legs are elevated to approximately heart level when the chair reclines, spreading the weight of your body equally below gravity. This zero-gravity massage chair will gradually lessen your persistent discomfort.
Body Scan

With the Body Scan Technology, the Maestro will find any discomfort in your problem areas. This customized massage will precisely map the critical areas of the neck, shoulders, and spine. Through cutting-edge innovation, it assures the best pressure and pinpoints trouble spots.
Foot Rollers w/ Superior Massage

Enjoy a nice foot massage after spending the day on your feet. The spinning reflexology rollers in the footrest of the Osaki 4D Maestro LE 2.0 offer a relaxing foot massage via the kneading technique. The foot roller's rotation will activate acupressure points, bringing extra comfort to the body as a whole. 
Foot & Deep Calf Kneading

The Osaki 4D Maestro LE 2.0 Massage Chair's tried-and-true Calf Kneading Functions pay particular attention to your calf muscles. The calf massage's rotating core section kneads your calves as it relieves tense muscles and encourages ease.
Bluetooth

With built-in Bluetooth speakers, tune in to your preferred audiobooks or relaxing sounds. Create a private haven of rejuvenation by enhancing your massage session with aural immersion through high-quality speakers. 
Space Saver

You may comfortably position your chair up to 5 inches away from the wall. Thanks to its Space Saving Technology, you can obtain a Zero-Gravity recline.
Touch Screen Tablet

For simple navigation and menu alterations, the Osaki 4D Maestro LE 2.0 Massage Chair features a Touch Screen Remote Tablet. The remote is secured in place by a magnetic holder.
Quick Controls w/ USB & Wireless Charging

With the Osaki 4D Maestro LE 2.0's wireless and USB charging features, you can stay connected while relaxing. Simply access the practical Quick Controls on the right armrest to customize every component of your massage chair. Never miss an urgent call, text, or notification again by charging your preferred electronics while getting an unwinding massage.
Pros & Cons
Owning an Osaki massage chair has many benefits, such as the Osaki OS-4D Pro Maestro LE 2.0. But like any other massage chair, there are drawbacks to consider for this premium model. Let's examine them:
Pros:

Superior 4D Roller mechanism with 7 levels of intensity - smooth, intense, and good for both an intense massage and a lighter one.

One of the best foot massages in the industry due to memory foam incorporated into the foot roller mechanism.

Body Pain Scan Al: a very effective tool to customize massage exactly to precise pain points per individual and see results.

The IR heated 4D Rollers is the best among the Maestro Family of Chairs — penetrating deeply into your tissues and noticeable as well.

Extremely accessible — intelligent voice control.

Large Touchscreen Table Remote.

You'll never run out of juice — USB and wireless charging.

Solid warranty and US-based customer support (Dallas area).
Cons:

No calf rollers.

Closed toe footrest will not accommodate bigger feet.

Difficult to move around the house / up and down stairs due to weight and size of chair.

Cost.
Frequently Asked Questions
Q: What are the height and weight requirements?

A: 5'0'' to 6'3" tall people and those weighing up to 260 pounds can fit on the Osaki OS-4D Pro Maestro LE 2.0.  The Maestro LE 2.0 has a 17" seat width  and a 20.5" shoulder width. Because this is a closed-toe massage chair, it will feel snug for anyone with feet larger than a US size 13.
Q: What are the doorway requirements?

A:  Assembled, the doorway requirement is 31.9" and unassembled (with the side panels off) it's 27".
Q: What kind of warranty does this come with?

A: The Osaki Pro Maestro LE 2.0 comes with Titan Osaki's extended warranty which includes 3 years of in-home parts/labor/service and 2 additional years of parts for a total of 5 years of coverage. If you want to avail of an extended warranty, you may choose 4-Year Extended Warranty ($249) / 5-Year Extended Warranty ($349) with the additional cost.
Q: What is the assembly like?

A: The chair comes partially assembled and includes an easy-to-follow Osaki 4D Maestro LE 2.0's instruction manual. If you are adept at furniture assembly, then you can finish the set-up quickly.  Set up will entail attaching the side panels. It'll be helpful to have more than one person available for this task–one to make the air and power connections while the other holds the panel into position for attachment and bolting.  After the side panels are installed, you'll need to attach the footrest which is a typical male/female connection with some kind of a cotter pin as well connecting the air hose and power.  The hardest part of your installation will be breaking down and recycling the boxes afterward. 
Q: Can I customize the intensity of the massage?

A: Yes, it can be customized with 7 different 4D settings, 5 intensity, and speed settings according to your liking. The Maestro LE 2.0 is perfect for a family with varying needs with the ability to deliver a very intense massage or a much more soothing massage as well.
Q: How far can the chair sit from the wall?

A: The Osaki Maestro LE 2.0  massage chair is a space saver chair and can be placed as little as 5 inches from the wall making it great for people who have smaller spaces. 
Verified Testimonials
Based on personal experience, the zero-gravity massage chair is incredibly comfortable, and the heat therapy really helps to loosen up the muscles. Also, the majority of reviews from customers who have purchased the Osaki OS-4D Pro Maestro LE 2.0 Massage Chair are positive.
The Osaki massage chair's cutting-edge technology, cozy design, and powerful massage are all lauded by reviewers. Likewise, they are amazed by its smooth and strong  4D roller technology that promotes relaxation. Read more reviews here!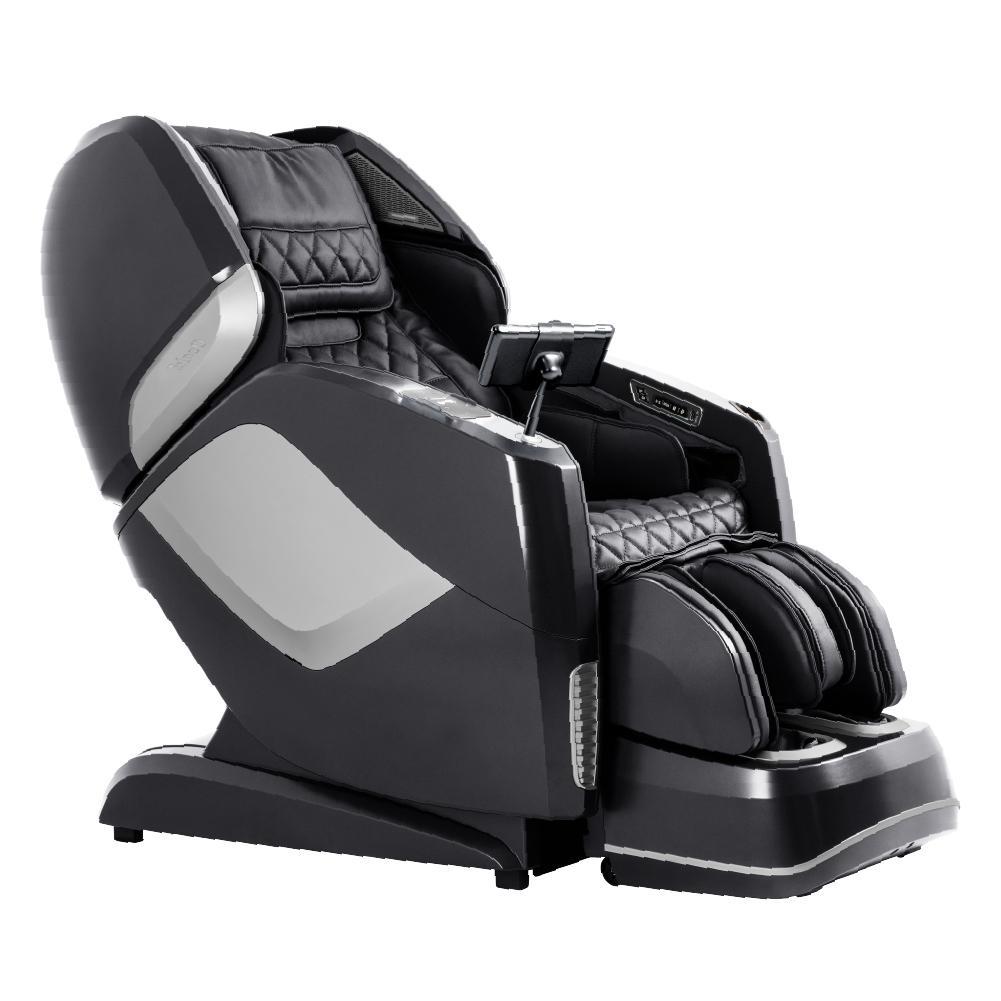 Worth your money!
"This chair gets daily use from everyone in our household. Guests also love sitting in it while visiting. Definitely worth the long term investment for the health of my back. Also the 4D rollers aren't just a marketing term, this thing can roll up/down/outward/inward
/circular patterns, its impressive. If you can afford it, I recommend it."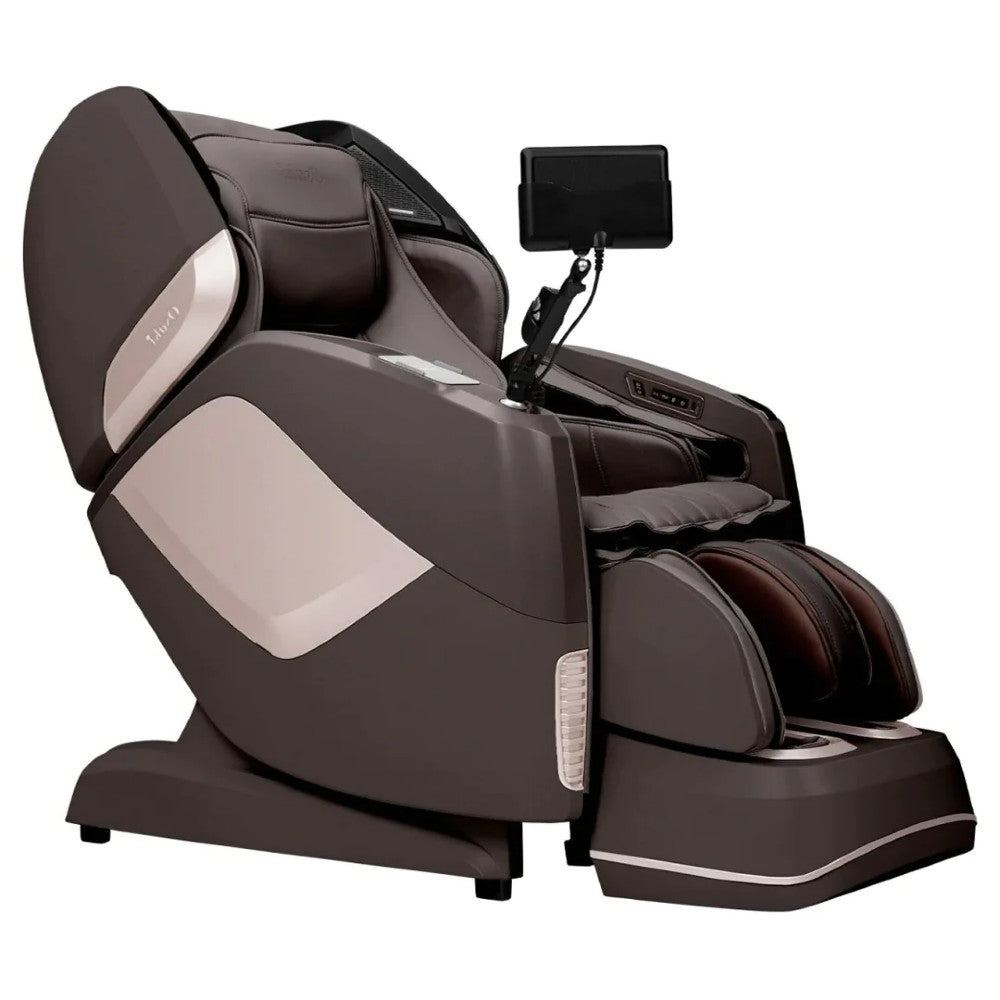 Best one ever!
"Yes, its worth every penny to me. Its better than any human masseuse."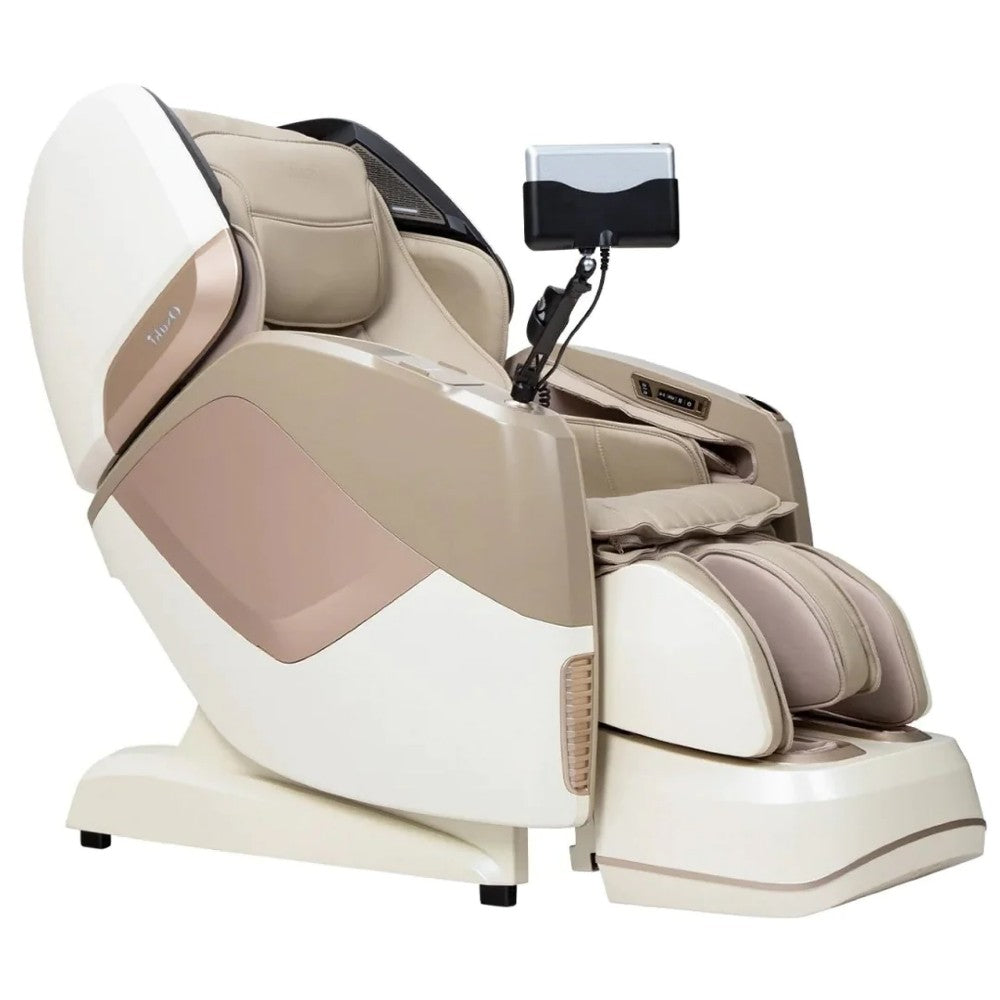 Amazing massage, hits the right spot and very precise!
"I've been using the Osaki 4D Maestro LE 2.0 Massage Chair for a few weeks now, and it has become the highlight of my day. The foot rollers with superior massage and the deep calf kneading feature are heavenly, especially after a long day on my feet. I highly recommend it!"
Wrap-Up
Overall, the Osaki 4D Maestro LE 2.0 has really hit the mark by elevating the Maestro Family of chairs to a whole new level with its new Body Pain Scan AI system truly delivers a uniquely customizable experience to all users. 
I was impressed with this when I sat in the chair at the Vegas Furniture Market and feel that Osaki has a Big Win in this chair by improving upon what's already worked well for the past 5+ years.  My favorite parts are the Body Pain Scan AI (it really highlighted my trouble areas–upper neck and shoulders is where I carry my stress–and thoroughly addressed them), footrollers and voice control.  It's also very nice to have such easy access to controlling the intensity of the chair to fit many different users.  
Even though it is fairly pricey, I believe it to be a wise investment for those seeking the best massage possible in the comfort of their own home. We wish you considered this review to be beneficial and informative. Good luck with your purchase!
Additional Resources
Are you still confused about how to choose the best massage chair? You can check out our

Ultimate Buyer's Guide

to help you get the best chair possible.