Human Touch Perfect Chair PC-610 Zero Gravity Recliner Review: Supreme vs Performance vs Comfort
A brief overview of the Human Touch Perfect Chair PC-610 Zero Gravity Recliner Review: Supreme vs Performance vs Comfort
Get ready to experience the ultimate in massage relaxation with the Human Touch Perfect Chair PC-610 Zero Gravity Recliner line. We've got three amazing models for you - Supreme, Performance, and Comfort - each designed to take your comfort to a whole new level. Inspired by the balance, elegance, and beauty of the human body, our Perfect Chair lineup combines premium upholstery, sleek modern design, and therapeutic comfort that's out of this world. NASA's zero-gravity research served as the foundation for our power recline feature, initially developed to relieve pressure on astronauts' spines during space travel. 
Unlike the 420 manual models, our PC-610 allows you to easily adjust the recline angle and leg height independently for personalized comfort. These zero-gravity chairs are not only recommended by doctors as the "healthiest way to sit," but they also come with an expanded head pillow and articulating headrest, spacious armrests, ergonomic lumbar support, and a wide range of finish and upholstery customization options. Trust us, once you experience the Perfect Chair PC-610 lineup, you'll never want to sit anywhere else!
Three upholstery packages—Comfort, Performance, and Supreme—are now available for the Human Touch Perfect Chair PC-610. 
The top tier of the three options, the Supreme Upholstery Package, includes all the Performance package's features as well as the patented 3D EasePoint TechnologyTM. It uses medical-grade mineral oil pods to constantly distribute your weight evenly across the seat and prevent uncomfortable pressure points. The Supreme also includes a very useful power hub, tuxedo back cover (which used to be an additional charge), and jade heat. 
With memory foam plus that adapts to your body and a power-adjustable lumbar system that is simply adjusted to support your back with the push of a button, the Performance Upholstery Package is offered in 6 different Premium Leather colors. 
Lastly, the cushioned pad included with the Comfort Upholstery Package is made of dependable SofHyde and is customized.
Throughout this review, we'll explore the features, pros and cons, FAQ's and customer feedback for each variation of the Human Touch Perfect Chair PC-610 Zero Gravity Recliner. Let's take a closer look at each model and help you decide which one is best for you.
Main Distinguishing Features
Each model of the Human Touch Perfect Chair PC-610 Zero Gravity Recliner line offers a range of unique features. It may depend on which model you choose to avail some/all chair qualities including:
3D Easepoint Technology (Supreme)

Medical grade mineral pods evenly distribute your weight across the entire seating surface to eliminate uncomfortable pressure points.
Jade Heat (Supreme)

Experience the healing arts of the Far Easy with Jade stones that radiate far-infrared heat deep into muscle tissue, creating a healing warmth that can be felt long after you leave the chair.
Full Coverage Tuxedo Back Cover (Supreme)

This upholstery-matching back cover adds a finishing touch to your Perfect Chair front and back. It's a beautiful detail, especially if your chair is positioned with its back exposed.
Power Hub (Supreme)

A single, easy-to-use control panel lets you adjust the Jade heat and lumbar support with the touch of a button. The power hub provides a simple solution for managing power cords, keeping everything neat and organized.
Memory Foam Plus (Performance & Supreme)

Maximizes ultimate comfort and provides ideal support while it contours the entire body.
Powered Adjustable Lumbar System (Performance & Supreme)

The active lumbar system allows you to customize your seating comfort with the touch of a button. Precision control gets you the exact support, just where you need it.
Stylish Magnetic Clasp (All Models)

The pillow is attached to the chair with a magnetic clasp. You can now easily adjust the pillow to the position most comfortable for you by moving the clasp along the magnet on the spine of the chair.
Full Support Head Pillow (All Models)

The Human Touch Perfect Chair PC-610 features a full support head pillow that cradles the head and neck while providing ergonomic relaxation.  
Extended Armrests (All Models)

The HT Perfect Chair PC-610 offers wide and long armrests which creates a "constant support" environment even as the chair reclines into zero-gravity.
Power Recline with 5-way Controller (All Models)

The Human Touch Perfect Chair PC-610 also has an intuitive 5-way omni-controller which allows you to independently adjust the recline and foot rest in order to create infinitely comfortable positions.  The smooth power recline with split-second digital acceleration at all recline points makes it very easy to find the perfect position.
Premium Design Elements + Fully Customizable (All Models)

With the Human Touch Perfect Chair PC-610 you can choose from premium and top-grain leathers and 3 distinctive solid wood-base finishes in order to create the perfect chair to highlight your room and style.  The base of the Perfect Chair 610 is hand-carved and hand-sanded of solid wood made from the Hevea Brasiliensis (rubber tree) which yields one of the strongest woods available today.  Human Touch also has integrated high-tensile strength steel which they have sandblasted, cleaned and powder-coated with a protective surface in order to ensure durability and a smooth, quiet glide while getting into zero-gravity.  Additional upgrades include memory foam PLUS and Jade Heat elements to further enhance your experience.
Adjust Leg and Back Independently (All Models)

The Human Touch Omni-Motion Classic is the first chair in the market to offer independent movement and adjustment of the back and leg region. The proprietary dual motor technology makes this possible.
Battery Safety Feature (All Models)

Human Touch has thought of everything with the Perfect Chair PC-610 Omni-Motion Classic — even a backup battery that will restore the chair back to the upright position in the event of a power outage.
Pros & Cons
In the privacy of your own home, Zero Gravity Recliners are a terrific method to reduce stress and pain while dramatically increasing the quality of your life. The older traditional style of home recliners put you into a slumped position curving the spine in an unhealthy manner. It's crucial to realize that each model has particular characteristics and restrictions before making a purchase. Here are the pros and cons of the Human Touch Perfect Chair PC-610 Supreme, Performance, and Comfort models:
**Note - all of the Pros of the Comfort are included in the Performance; all of the Pros of the Performance are included in the Supreme.
Frequently Asked Questions
If you are considering purchasing a Human Touch Perfect Chair PC-610 Zero Gravity Recliner, you may have some questions. Below are some commonly asked questions about the chair line, along with answers for each model:
Q: What are the height and weight requirements?

A: The Human Touch Perfect Chair PC-610 Supreme, Performance, and Comfort chairs are suitable for individuals with a height range of 5'0" - 6'0" and 400 pounds. Also, they all have a 23" seat width.
Q: What are the doorway requirements?

A: The Human Touch Perfect Chair PC-610 Zero Gravity Recliner models are designed specifically to fit through standard-size 30" household doorways.
Q: What kind of warranty does this come with?

A: Now, let me tell you about the awesome warranty coverage you get with the Human Touch Perfect Chair PC-610 Zero Gravity Recliner models. It's called the Human Touch Omni-Motion Warranty, and it's seriously impressive. You get a whopping 7-year warranty for in-home service, parts, and structural. That means if anything goes wrong with your chair, they've got you covered. And here's the best part: this fantastic warranty applies to products purchased after January 5th, 2022. So, if you're looking for peace of mind and long-term protection, this is it! But wait, there's more! If you want even more coverage, you can choose the 5-Year Coverage option for just $499. Trust me, it's totally worth it to have that extra layer of security. 
Q: What is the assembly like?

A: Each of the Human Touch Perfect Chair PC-610 Zero Gravity Recliner models requires some assembly, but it comes with a clear instruction manual and all the necessary tools. The set-up can be completed fast if you are skilled at putting furniture together. It's also important to note that the box may contain specific parts and instructions according to the model. You'll first unbox the chair and begin by taking out the main body. Then, install the backrest frame and the right-hand armrest core. The reclining controller housing and arm caps, followed by the remaining pads, are all that need to be installed if you bought the COMFORT UPHOLSTERY PACKAGE. Installing a control panel is required if you selected the PERFORMANCE UPHOLSTERY PACKAGE in addition to installing the arm caps and body pad. Also, if you bought the SUPREME UPHOLSTERY PACKAGE, you'll need to put in a control panel, a power hub, and a transformer under the chair. Although it may seem complicated, we assure you that it is not. And perhaps most significantly, it's worthwhile!
Q: How can you adjust the seating comfort on the Human Touch Perfect Chair PC-610 Zero Gravity Recliner models?

A: You may adjust your seating comfort at the touch of a button using the active lumbar system on the Human Touch Perfect Chair PC-610 Zero Gravity Recliner models. You can fully control the backrest and footrest independently. You can even raise the legs high above heart level, which is perfect for those recovering from surgery or suffering from swelling/edema.
Q: How far can the chair sit from the wall?

A:  The Human Touch Perfect Chair PC-610 Zero Gravity Recliner models require 9 inches of recline clearance from the wall.
Real Customer Reviews
To read more reviews and see if the Human Touch Perfect Chair PC-610 Zero Gravity Recliner is the right choice for you, visit our product page.
If you're considering purchasing any of the Human Touch Perfect Chair PC-610 Zero Gravity Recliner models, it's always a good idea to check out reviews from other customers. Here are a few real statements from verified buyers: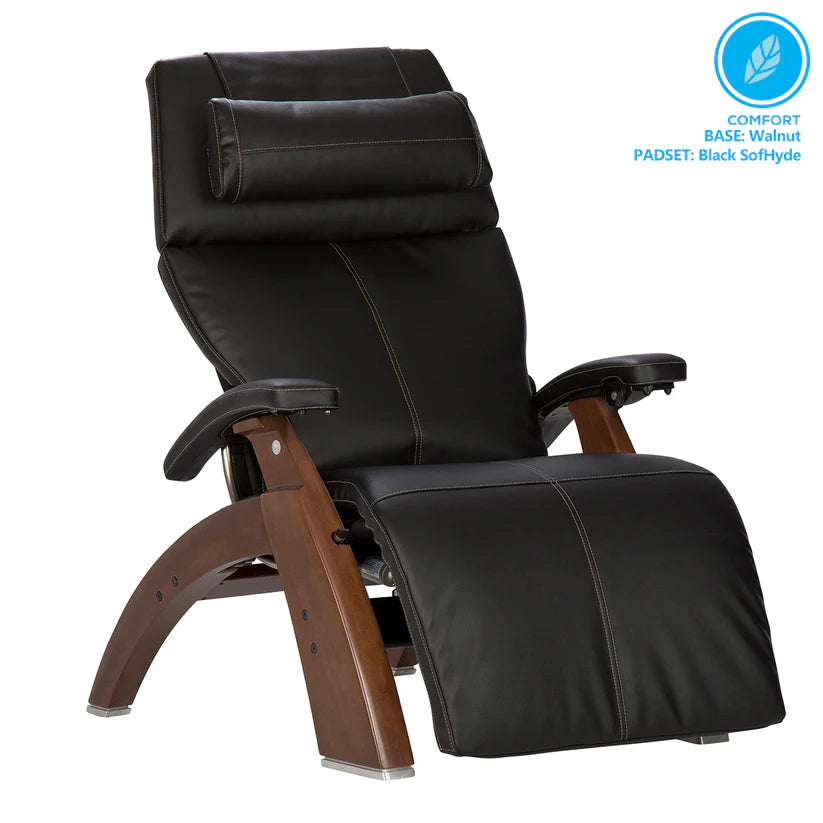 Good chair, functions well, nicely built
The chair is a really nice piece of furniture. The colors are pretty and classy. The chair itself is firm which is necessary for my condition and is the only place in the house I can really sit and know I am in an ergonomic position for sure. I ordered the attached laptop stand as well and I wanted to really like this, but it giggles when you type and that can make you dizzy. I love the heat, it definitely has lots of different adjustable points which is key depending on my pain. The position is very comfortable, although I do wish sometimes I could change the angle between the seat and back, as well as move the arms into different heights. I am working on learning how to sleep on my back in the chair, sometimes I need to put a pillow for more support in the head region, but all our bodies are shaped differently. I love zero gravity and the blood to the heart and brain. I like to move it into position before I crawl in actually because I get dizzy if the chair moves to much while I am in it. This is a good choice if you need something ergonomic and that is the most important thing to you. Its not your squishy couch you sink into, but maybe that's the point.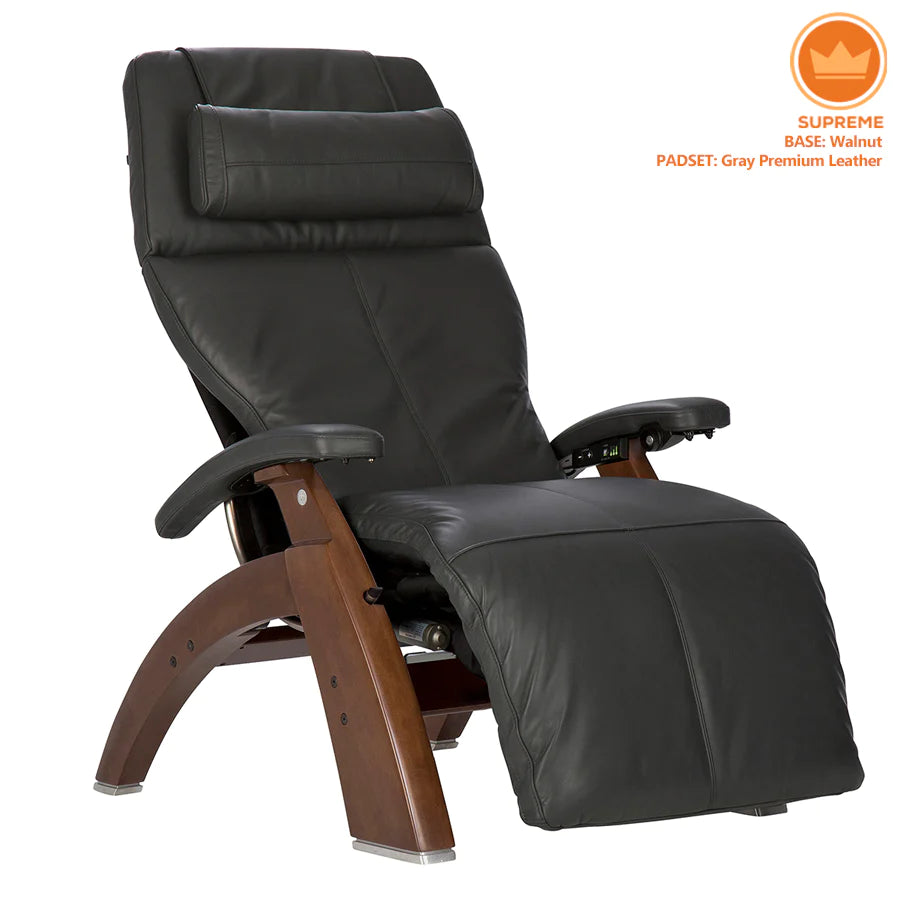 Best chair I have tried
My experience with Human Touch started in 2006 when I bought an HT-275 massage chair. It has seen a lot of use by family and friends and after 16 years most of the synthetic leather has peeled exposing the fabric underneath but every function still works as it did on day one. Having experienced this kind of reliability from this company made it easier to spend this much money on a top of the line PC-610 with the supreme upholstery package. I have tried their every model of zero gravity chairs and I found that changing the angle of the foot piece was a feature I didn't want to give up (the non-motorized version of this chair does not have this function). While I am thin, the slim version of the chair did not feel comfortable for my arms maybe because I am 6 feet tall. The adjustable lumbar support is another feature that elevates this model from great to perfect and the heating is just that extra luxury feature that I seem to be turning on every time I sit in the chair (It is December :) I spent 5 months trying to talk myself out of this expense, but eventually I splurged and I love it. Thank you Wish Rock for helping me with the purchase!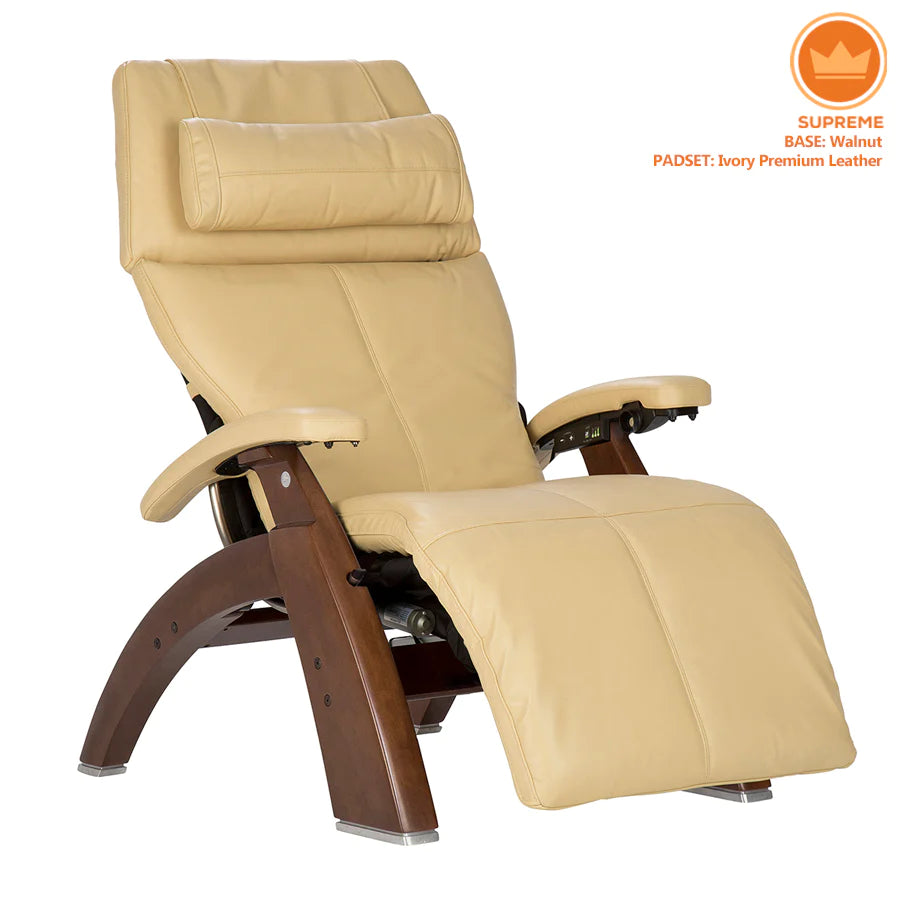 Almost a Perfect Chair
PROS: Excellent quality, super comfortable in zero, or near zero gravity positions, jade heat is great, power recline mechanism is very smooth, great for easing pressure off your back, relaxing, napping
CONS: biggest issue is due to the fact that the seat and back are in fixed positions, you cannot adjust back position, only the top little head piece. Because of this, your body is reclined too far to eat or use a laptop while in the chair, since you have to lean forward; the other thing for me personally is that the chair arms are about an inch too high. So when i sit in chair and naturally let my arms to my side and rest on the chair arms, it causes my shoulders to rise because the chair arms are not lower. and you cannot raise the seat level to adjust either
Wrap Up
In conclusion, the Human Touch Perfect Chair PC-610 Zero Gravity Recliner offers exceptional comfort and relaxation. All three models are designed to provide a customized and immersive massage experience. 
Importantly, the Human Touch Perfect Chair 610 Supreme & Performance models aren't our average Joe — they're designed to cater to the discerning eye of those with specific design requirements. How, you ask? Well, hold onto your seat because these Zero Gravity Recliners are fully customizable with three different base options and six premium leather options. That's right, folks, we're talking a whopping 32 different possibilities! The PC-610 Zero Gravity Recliners are truly one of a kind - no other zero gravity recliners out there can match their level of customization. It's like having a personal stylist for your seating needs!
The PC-610 Supreme offers advanced massage technology and extra premium features including the patented 3D EasePoint Technology™,  jade heat, tuxedo back cover (used to cost extra), and a very convenient power hub. The PC-610 Performance boasts a therapeutic massage that targets pressure points and improves circulation. The PC-610 Comfort gives a comfortable seating experience and features adjustable lumbar support.
One exciting feature of the PC-610 Supreme is the 3D EasePoint Technology™ which mimics the techniques used by massage professionals. The PC-610 Performance highlights a Power-adjustable lumbar system that allows users to choose specific areas of their body to target during the massage. The PC-610 Comfort features a fully adjustable magnetic headrest that can be tilted and pivoted to provide optimal comfort.
Overall, the Human Touch Perfect Chair PC-610 Zero Gravity Recliner lineup is the only option if you're looking for a Zero Gravity Recliner that can provide the best level of relaxation. With any of these recliners, whether you pick the Supreme, Performance, or Comfort type, you can't go wrong. Depending on your budget, each model boasts advanced technology, customizable features, and a comfortable design, So why wait? Invest in your comfort and relaxation today with the Human Touch Perfect Chair PC-610 Zero Gravity Recliner line. Trust us, your body will thank you for it!
Additional Resources
Still confused? Take a look at this comparison chart to help you differentiate the HT Perfect Chair variations.
Now, if you're curious about other HT models, you can read our related

blog post

, highlighting the Human Touch Zero Gravity Recliner line. 
Why don't you also watch a visual review? Check our posted

video

on our YouTube channel.